Mylar Tubing Roll PAKVF4C
(5.0 mils)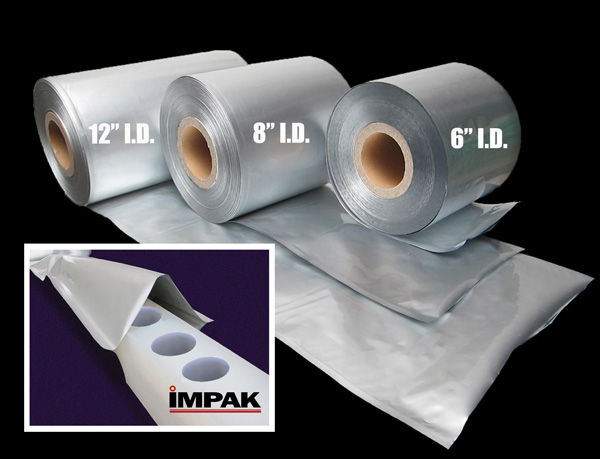 All the benefits of our Mylar foil bags, in customizable tube form:
In addition to our pre-sized Mylar foil bags, we also offer several widths of MylarFoil tubing developed from our PAKVF4C material. Our Mylar tubing rolls offer the same high oxygen/moisture barrier properties as our bags, but in tube form so that you can create custom sizes with each seal (especially good for creating long packages and barrier tubing). A Mylar tubing roll and a sealer are all you need to start creating your own packaging (see our Handheld Sealers Page for more info).
Superior Material:
PAKVF4C is known for its high hot tack strength, wide range of seal-ability and ability to seal through contaminates such as fine powders. At 5.0 mils thick, PAKVF4C has high oxygen/moisture barrier properties and offers excellent product protection. This material is often favored in the food packaging industry, and is even used in applications such as damaged battery storage and clean-up.
Sizes:
Our Mylar foil tubing rolls are 100 yards long and come in four different widths: 6", 8", 12", 36" (these measurements refer to the inner dimension of the bag, or "ID"). Custom widths available.
| Part Number | Description | 1 - 2 Rolls | 3 - 5 Rolls | 6 + Rolls | Order |
| --- | --- | --- | --- | --- | --- |
| TVF4C36IDY100 | 36.0" ID x 100 yards roll of PAKVF4C Tubing; Standard side seals; 3.0" core | $356.40 each | $324.00 each | $299.70 each | |
Part Number
Description
1 - 4 Rolls
5 - 9 Rolls
10 - 18 Rolls
19 - 25 Rolls
Order
TVF4C0675Y100

6.75" x 300' O.D Mylar Open End Bag Tubing (100 yds.)
Material: PAKVF4C
.275" Side Seals (.55" total)

$99.20 each
$92.20 each
$85.20 each
$74.20 each
TVF4C0875Y100

8.75" x 300' O.D Mylar Open End Bag Tubing (100 yds.)
Material: PAKVF4C
.275" Side Seals (.55" total)

$119.20 each
$105.20 each
$90.20 each
$80.20 each
TVF4C1275Y100

12.75" x 300' O.D Mylar Open End Bag Tubing (100 yds.)
Get the BENEFITS OF High Volume Production Pricing. BEST PRICE FOR VALUE.
Material: PAKVF4C
.275" Side Seals (.55" total)

$109.20 each
$98.20 each
$87.20 each
$76.20 each
Don't see the size you need? We offer custom sizes!
If you need a custom, mil-spec product or stock film manufactured to your specifications, please contact a sales representative at sales@sorbentsystems.com.
*Please note:
In some cases, an order of custom-sized bags might suit your application better. We had a customer who was using tubing to hand make the same size bag over and over. Once we realized this, we offered them a custom-size bag order and they've been enjoying the time savings ever since.
Our expertise could help save you time and money; contact our knowledgeable team before you purchase to get the best solution for your application: sales@sorbentsystems.com
---
MORE INFORMATION
---
What is Roll Stock Sheeting/Tubing?
Sheeting and tubing are both packaging materials that haven't been cut to size, and can be sold on a roll. They differ in that roll stock "sheeting" refers to a single sheet that has been rolled, whereas "tubing" refers to a roll of material that is closed on the sides (think of a never-ending sleeping bag). Our foil tubing roll is great for customers looking to create packages of various lengths, and is especially helpful for creating longer bags and barrier tubing. Looking for roll stock sheeting instead of tubing? Visit our Mylar Sheeting Chart to see sizes.
---
Why Mylar Foil (PAKVF4C)?
PAKVF4C is known for its strong barrier properties and resistance to aggressive chemicals. It has high tensile strength (it's hard to puncture this material), and can seal through contaminates such as fine powders (i.e., vitamin powders, protein powder, etc.). It also provides an excellent barrier for oily or greasy products. Learn more on our PAKVF4C Info Page.
---
Helpful Links:
Sealers: Find a sealer for your roll stock or bags here: Handheld Portable Sealers.
Food Preservation: Extend the shelf life of your food product with our Oxygen Absorbers.
Custom Orders: Contact us for a custom Mylar tubing order in your selected width; alternatively, if you plan on making the same size bag each time, a custom Mylar foil bag order may suit your needs better. Contact us with your application and specifications so we can offer the best solution: sales@sorbentsystems.com.